Projects
Tualatin Hills Park Foundation, in partnership with THPRD, launched the Access For All initiative in 2014 to support a future that allows people of all backgrounds and abilities access to the social, emotional and physical benefits of the facilities and programs of the park district.
Programs
Splash for Life
Splash for Life is a campaign to provide badly needed swim lessons for underserved youth from Title I schools in our area, particularly students who identify as Black, Indigenous, or People of Color. These students, in the best of times, are often unable to access swim lessons. With the pandemic, this number has declined even further. The fatal drowning rate for Black/African-American children is three times higher than for white children.
Due to the pandemic, local pools were closed for seven months. No swim lessons were available for 13 months. Today, staffing shortages have reduced swim lessons to one-third of pre-pandemic levels. This program is designed to meet a very specific need and fill this void before these kids age out. We are fundraising to provide 440 students with 10 swim lessons, transportation to and from their school, and swim equipment. Lessons will begin in April and go through September 2023.

Many thanks to the Autzen Foundation, the Oregon Community Foundation- Nike Impact Fund, the Jackson Foundation, the Marie Lamfrom Foundation and OnPoint Credit Union for their generous grants to support Splash for Life.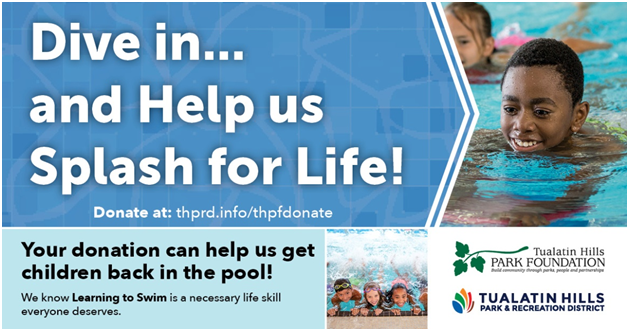 Mobile Recreation
THPF, in partnership with THPRD, helped secure funding for mobile recreation throughout spring and summer. The programs are free and open to the general public and provided in public spaces. These programs are also offered exclusively to residents of affordable housing developments and participants in other local social service programs. Partners for the Mobile Recreation Program include Beaverton School District, where activities are offered at Title 1 schools, the Edwards Center and Virginia Garcia Health Center. THPRD's Mobile Recreation Programs includes Rec Mobile, Nature Mobile, Wellness on Wheels, Fitness in the Park and Adaptive Recreation.
Many thanks to the Autzen Foundation, Juan Young Trust, Marie Lamfrom Foundation, Oregon Community Foundation, and the Portland Clinic Foundation for their support.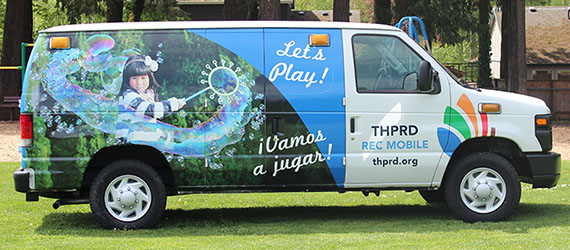 Talking Walls
The Foundation has been working with THPRD to secure grant funding for Talking Walls. We are proud to work hand in hand with the district to promote cultural programming with an emphasis on equity and inclusion. This is a mural project supported by local artists to create art in THPRD parks and public spaces to celebrate cultural diversity and inclusion. The Talking Walls community art project is a collaboration between THPRD and nonprofit organizations, such as Color Outside the Lines, with grant assistance from the Foundation.
There are four different locations with Talking Wall murals: Center Street Park, Greenway Park, HMT Complex and Sunset Park Sports Complex. In 2020, the Talking Walls at Greenway were created by local Native American artists. These murals tell a story of Native American heritage. The Talking Walls at Sunset High School celebrate Black Lives Matter, created by several teenage artists and Sunset High School's Black Student Union. Artists, youth and local community participated with the visiting artist Mauricio Ramirez in the creation of the mural "Form and Harmony" at Center Street Park. In October 2021, the newest installment of Talking Walls was created at THPRD's Howard M. Terpenning Complex. The theme for this series is belonging and it was focused on Latinx artists. The Foundation, in conjunction with THPRD, wrote grants to the Reser Foundation and the Oregon Cultural Trust to fund these murals. Partnerships with the nonprofits Color Outside the Lines and the Five Oaks Museum were forged to bring this project to life.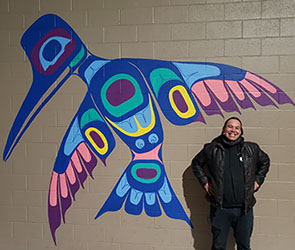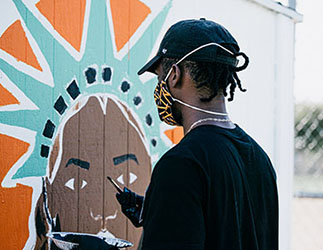 Help Seniors in Need Campaign
In September 2021, Tualatin Hills Park & Recreation District (THPRD) reopened the Elsie Stuhr Senior Center. The Elsie Stuhr Center was closed at the beginning of the pandemic. Prior to March 2020, the center provided senior-specific health, wellness, and enrichment activities for the 55 and better community. The center also served as the district's Therapeutic Recreation drop-in program.
The Tualatin Hills Park Foundation (THPF) spearheaded an effort to help seniors return to the Elsie Stuhr Center. THPF raised funds to support seniors returning to recreation and socialization by gifting seniors a one-month pass to return to Elsie Stuhr. 100% of the funds raised went to a senior pass. The Friends of Elsie Stuhr generously matched up to $5,000.
We raised over $10,000 with the match. Support of this campaign helped bridge the income gap and build a stronger community for our senior neighbors.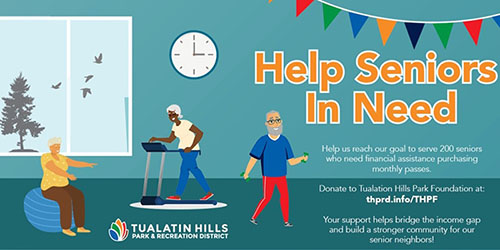 Spring Celebration
The Spring Celebration was created through the Autism Society of Oregon's partnership with Tualatin Hills Park & Recreation District. The event takes place in early spring at Mountain View Champions Park. In 2019, over 900 people registered for the event. The main event is the silent egg hunt, which provides the opportunity for individuals on the spectrum to collect eggs without excessive noise or stimulation. Family members are encouraged to participate in the free for all event, allowing those attending in support of a sibling an opportunity to search for eggs. The Spring Celebration also includes face painting, inflatable bounce houses, arts and crafts, designated quiet areas, concessions and photos with the bunny.
Among a growing number of programs and events funded in part by the Park Foundation is the All Ability Tri4Youth, hosted annually by FACT Oregon and THPRD. Click here for more information.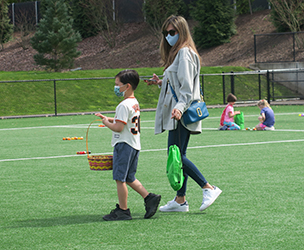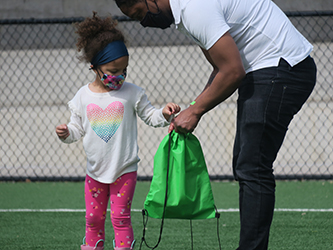 Parks
The Park Foundation, as part of its Access for All initiative, recently completed its first capital campaign of $1.5 million to build and program features at Mountain View Champions Park in Aloha.

The park provides new and expanded recreational opportunities for people experiencing disabilities. Among many accessible features of the park, the Champions Too Field is the first inclusive multi-sport field in the state of Oregon. A 6,500 square foot all abilities play area is situated near the field. Learn more about Mountain View Champions Park here: >>News release
Click here to read the National Recreation and Park Association magazine article, Collaboration: The Key to Development of Oregon's Mountain View Champions Park
Champions are made from something deep inside them – a desire, a dream, a vision.

- Muhammad Ali, 2004